5 Editing Apps to Make Your TikTok Videos Better
Published on 23rd of November 2021
Ever since the pandemic hit in 2020, TikTok has taken the world by storm. It's being used as a medium of entertainment and comfort in the trying times and during the global lockdown.
The mobile app was made global in 2018, having taken over the world in the span of just 3 years. TikTok is being used by people of different age groups, sexes, ethnicities, and races.
The unique social network gives individuals, brands, groups and organizations the opportunity to bring their content and services to the public eye while spending little or nothing.
So, why not take advantage of this platform? TikTok may be a bit competitive but this only means that you'll have to stand out to succeed and reach your desired engagement levels.
The real question is, how can one stand out? Well, one way is to ascertain the quality of your content is always spot-on.
In that vein, here are some video editing applications that can help give your TikTok content an edge over others: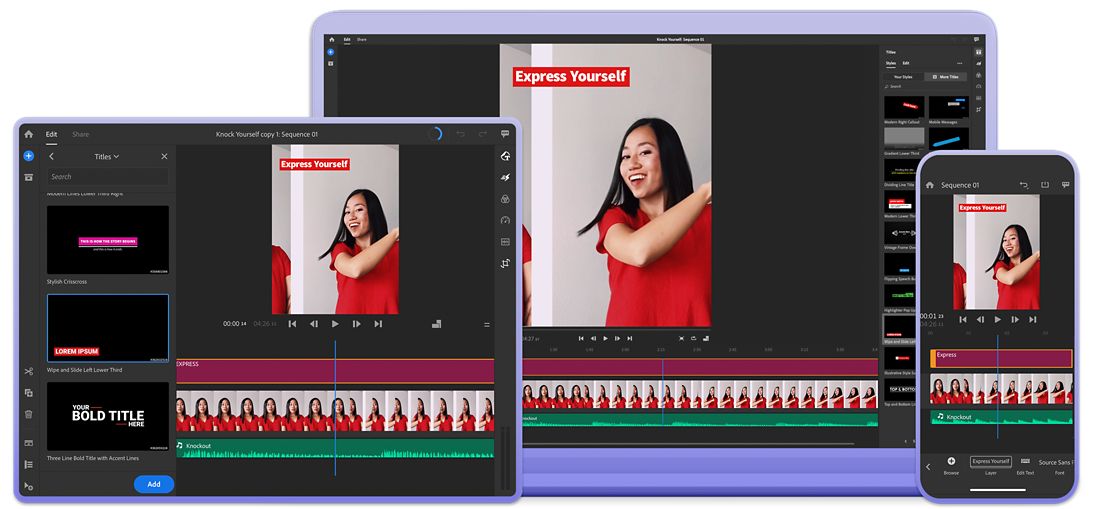 Image Credit: Adobe.com
This app has made editing easy, even for a beginner. With your mobile or desktop device, you can make professional-like TikTok videos with little stress. It's free but you'll need to pay to unlock certain editing features.
An upside is that you can access this application via all your devices, be it Android, iOS, or macOS. It has varieties of features, including;
Allowing you to share directly with your TikTok audience. Unlike apps which make you save to your gallery before sharing, Adobe Rush shares directly to your TikTok—avoiding any form of quality depreciation.


Helping to enhance the color of your videos. With this app, you can easily increase the brightness, exposure or shadow of your videos. This makes your videos look top notch, attracting more viewers in turn.


Allowing audio to be added and adjusted. Do you want to use a song that's too long? Do you want to use a particular part, or the most catchy, of your favorite song? Rush allows you to add and adjust music according to your wish.



Allowing you to adjust the speed of the video at will.
The free version is, however, limited and only 3 videos can be exported yearly. Some editing options are only available to paying customers.


Image Credit: APKPure.com
It has been around for a rather long time and is often referred to as the most-used editing app on TikTok, which is not a surprise—with all its editing features.
You have all the basic editing features. From effects, themes, and templates to filters, stickers, etc. It's also free, though including a watermark and some ads.
It also has direct sharing capabilities to TikTok. That is, videos are directly transferred from the app to the social network; this prevents quality loss or damage in any form.
It offers audio and video syncing and allows you to add songs from your library. You can put a different audio to a video that previously had some audio; plus, it will be synced to perfection with Inshot.
It allows you to add and create your sounds, and add to your music playlist. In short, it offers playback features.
Videos can easily be cut, trimmed, or split. This wonderful app lets you do anything—Inshot also helps in blurring backgrounds.


Image Credit: Google Play Store
It has a 4.9 rating on Apple Store, while accumulating 5 stars on Play Store. Good ratings like these cannot be a mistake. With Videoshot, you can do the following and more:
Trim videos easily; shorten clips and add other videos to existing videos


Record a fresh video or import from apps like TikTok


Add transitions, and there are lots of varieties


Record voice-overs on the app and add them to your videos



To do text overlays, apply styles or themes
It has been said, there are few editing features that the Videoshot app lacks. Therefore, it's perfect for editing TikTok videos and growing one's brand. This application is compatible with both Android and iOS devices.


Image Credit: TechCrunch.com
This one offers a wide range of editing options. Owned by the same ByteDance, its compatibility is heavily pronounced and aligned with TikTok.
Apart from the fact that it doesn't contain a green screen feature, it's otherwise known for its advanced editing features.
It's also free, easy to navigate and requires no professional knowledge whatsoever. This video editing app can be used on both Android and iOS devices.
It allows for speeding ramping. The speed of videos can be increased and decreased—slow motion and accelerated videos can be made.


Texts and graphics can be added to your videos.


It has a music library with various song options.


Animations can be added to your videos, along with different themes and filters.


Voiceovers can be recorded and added to your videos.

Image Credit: APKdl.io
This editing application has been claimed to be the best editing application for TikTok with over 40 million users. Funimate is known for its creativity and entertainment, being available on both the App and Play Store's.
It has a whole community of video viewers, weekly challenges, and lots to indulge users. Some of its editing options are:
It allows you to create your own effects easily but also makes available hundreds of effects to pick from.


Trimming, cutting, and the use of emoji and stickers, texts and graphics options are available.


Videos can be merged with Funimate.



There are lots of intro and outro effects at your disposal.
Technology has indeed made life easier; with this editing app, an amateur can have professional-looking videos in no time.
There's a limitless list of editing applications available to suit your TikTok videos, so why not take the opportunity and make your videos better?